Q&A with Ako Williams of Ushio America: Care222 Far UV-C Disinfection Technology
When we first started In Good Company in 2020, it was a way for us to focus on the positive stories in our community amid the lows of the pandemic. As the conversation around re-opening California continues, we're proud to evolve our blog and newsletter to feature clients and friends of the firm on our blog to showcase the impressive ways in which individuals and companies are giving back or impacting our community.
In our first of many on this blog, Litigation Partner Bernie Resser interviews Ako Williams, Vice-President, General Counsel, and Corporate Secretary of Ushio America to learn more about Ushio's Care222 Far UV-C disinfection technology.
Bernie: Hi Ako. Thank you for joining us today. Please introduce yourself and what your role at USHIO entails.
Ako: Thank you for having me, Bernie. I'm the General Counsel and Corporate Secretary for Ushio America, Inc. I'm responsible for all legal matters for the company and also assist other Ushio Group companies with legal and strategic initiatives.
Bernie: Let's get into the details. What is the Care222 Far UV-C disinfection technology?
Ako: The Care222 Far UV-C disinfection technology is a new kind of UV light technology that can neutralize viruses, including the COVID-19 virus, in occupied spaces. It's a unique disinfecting light technology that inactivates bacteria and viruses in the same way as conventional UV disinfecting lights, but it is safe to use where people are present. Far UV-C lamps operate as a lower, less harmful wavelength range than conventional UV-C disinfection lamps. What differentiates our product from other 222nm Far UV-C lamps is that the Care222 lamps are outfitted with a unique optical filter that blocks harmful wavelengths above 230nm. The Care222 Far UV-C disinfection lamp modules are incorporated into lighting fixtures as components to enable disinfection systems.
Bernie: How has this technology benefited the world during the COVID-19 pandemic?
Ako: The Care222 Far UV-C disinfection lamp modules are manufactured by our parent company, Ushio Inc. We are partnering with manufacturers like Acuity Brands and our sister company, Christie Digital Systems, to bring our technology to as many places as possible and provide the peace of mind people need to get back to business, school, and fun.
Bernie: What is your role as General Counsel in making sure this new business will be a success?
Ako: I'm involved in all aspects of this project, from drafting and negotiating contracts and reviewing EPA, FDA, and FTC regulations to developing a consumer education website.
Bernie: How do you see this technology shaping the future of disinfecting in public places?
Ako: We hope the Care222 Far UV-C disinfection technology becomes the gold standard for UV sanitization at all places.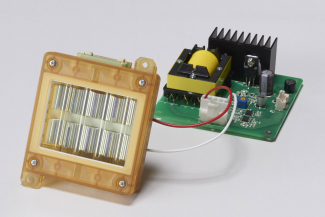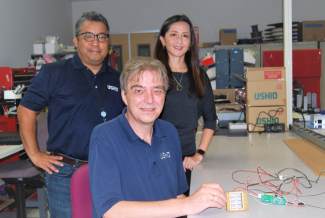 Left: Care222 B1 Module
Right: Shinji Kameda, COO; Holger Claus, Ph.D., VP, Technology; and Ako Williams, VP, GC and Corporate Secretary.