The Magic of 1031 Exchanges—The Most Powerful Tax Benefit Left in America
December 14, 2022

–

Media Mention
The Real Estate Wealth Podcast
Greenberg Glusker Taxation and Real Estate Partner, Warren J. "Skip" Kessler, joins "The Real Estate Wealth Podcast" with Ed Aloe, of Cal Cap Advisors, to share his vast expertise in structuring 1031 exchanges in episode 4, entitled "The Magic of 1031 Exchanges—The Most Powerful Tax Benefit Left in America."
The episode aired on December 13, 2022, and includes the following excerpt:
"The government in effect is allowing you to invest that $400,000 without accounting to the government for any return. They're not getting a part of the profits, and you get to buy more real estate."
Skip is a national expert when it comes to structuring Section 1031 forward and reverse exchanges as well as structuring dispositions where some partners or members want to exchange separately or where some partners or members want to exchange and others want to cash out.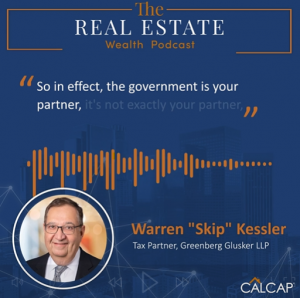 Resources