U.S. Supreme Court Declines to Review Decision Blocking Prop. 65 Acrylamide Cancer Lawsuits
For those following the acrylamide saga (see, e.g., our earlier blog post), on Monday of this week, the U.S. Supreme Court declined to review the injunction blocking new Prop. 65 lawsuits as to cancer warning labels on foods containing acrylamide: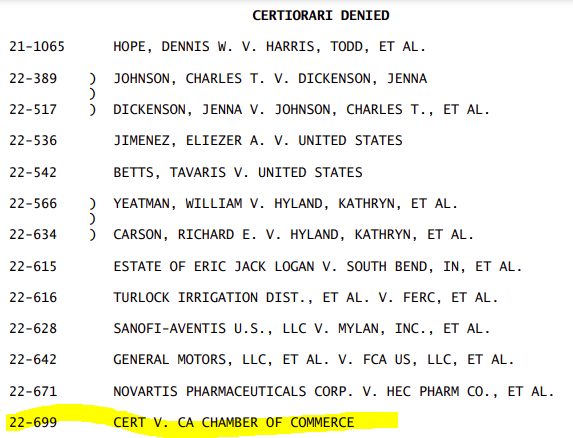 By way of background, Prop. 65 requires businesses to warn Californians about exposures to chemicals known to the State of California to allegedly cause cancer, birth defects, or other reproductive harm. The Prop. 65 list of chemicals presently includes around 1,000 chemicals, including acrylamide, a substance that forms when certain foods (like bread, coffee, and French fries) are cooked at high temperatures.
Following a proliferation of lawsuits based on acrylamide cancer risk, in March 2021, U.S. District Judge Kimberly J. Mueller issued a preliminary injunction barring such lawsuits given the unclear science regarding whether acrylamide in food actually causes cancer in humans. In other words, the State had not shown that required acrylamide cancer warnings were "purely factual and uncontroversial."
In May 2021, a three-judge panel of the Ninth Circuit granted an emergency stay of the District Court's preliminary injunction, finding that the intervenor (CERT) was likely to prevail on appeal and raising concerns that the injunction violated the prior restraint doctrine, among other matters.
In March 2022, however, a three-judge panel of the Ninth Circuit affirmed the District court's grant of the preliminary junction finding that, among other things, the scope of the injunction was not impermissible and that the injunction would be in the public interest. In October 2022, the Ninth Circuit declined to review the preliminary injunction en banc.
The Supreme Court's denial of certiorari on Monday means that Hon. Mueller's preliminary injunction will stand for the foreseeable future. In other words, acrylamide lawsuits based on cancer risk remain blocked.