The Laboring Oar Blog
Visit the Full Blog
The Laboring Oar® is Greenberg Glusker's employment blog created with the intention of providing the latest employment and labor law trends and updates to help clients remain informed in an ever-changing, dynamic world.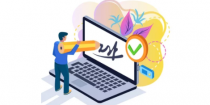 Best Practices When Obtaining Employee E-Signatures on Arbitration Agreements
Traditionally, a signature affixed to a document indicates that the person who "squiggled" on the document understands and agrees to the terms of the document. However, an electronic signature may not be as easy to authenticate. A California Court of Appeal recently held that an electronic signature did not establish...
Go